As a Chartered accountant or ICAI student, you are among the best resources for any company to hire. There are plenty of CA related courses that you can pursue for different kinds of objectives. In this article, I am going to simplify this for you so that you can purse the best courses appropriate after completing CA.As opposed to the general belief or mindset, CA students don't necessarily have to all pursue a career in auditing or taxation. The reason I say that is because, clearing the CA program says more about the candidate's ability and quality than just understanding of taxation or financial statements. In this article we discuss the top 10 certification courses for ca students.
---
We will try to break down this discussion in the following sections: the 10 best certification courses & qualifications for CA students
---
certification courses for ca students- Role Wise Classification
Financial Planning & Analysis & Courses after Completing CA
This is a role which is different from auditing and may sound and be interesting for those who like forecasting, budgeting and overall an involvement in business in general. As a FP&A analyst, you will be interpreting the internal financial data of the company you work , creating performance metrics and KPI's, giving recommendations to management on improving profitability, finding new ways of increasing revenue. It is a very coveted role and CA students generally are preferred for FP&A Profiles because they understand financial statements very well, and its easy to teach them financial planning
Recommended skill set & Certifications courses for FP&A:
Financial Modeling: If you want to plan and work with data you need to learn a structured way of approaching a problem. Financial modelling is not forecasting financials only, that is of course the outcome. However learning financial modelling the proper way, will teach you on how to approach a business decision.
Data for Financial Analysis: Typical Case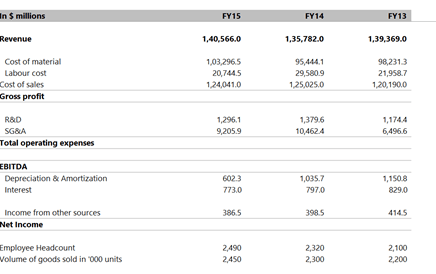 Look at the data given, this is a typical case of FP&A interview. You are expected to answer the following questions
How do you think the company can increase its revenue?
What would be some ways of increasing the margins
Is there a way by which head count increases and labour cost reduces?
You can make out that these questions cannot be dealt without a thinking process. Hence you require to learn financial modelling. If you want to know how to learn financial modelling then read this article: What is financial modeling. If you want to learn financial modelling and get placements in FP&A then click here: Learn financial modeling
If you do get interested in this filed and want to dig deep with a respectable qualification, then CIMA or CMA(u.s) both will do the job. cost and management accountants qualifications can give you a stronger base towards financial planning.
CIMA:
Duration: 2-3 Years
Exemptions for CA: Since there is an MOU between CIMA & ICAI, you will get almost 12 paper exemptions out of 16.
Cost: Less than 1 Lac INR
CMA(U.S)
This qualification has become popular over the years in the costing community, majorly because its easy to complete and requires just one year.
Duration: 1 Year
Exam: 2 papers
eligibility criteria: Graduation
Cost: Less than a 1 Lac INR
Out of the two in terms of the credibility I would suggest CIMA, because it is more respected and of course now its backed by CPA(U.S).
Investment Banking & Equity Research:certification courses for ca students
I have come across a lot of CA candidates, who are unaware that they are one of the favourites of the investment banking & equity research industry. This is to blame the fraternity I suppose, of not creating awareness beyond auditing and taxation. A lot of CA inter students can also actually make their career here, as opposed to a dead end which mostly think. Not clearing the entire CA program, is not the end of life. You can get jobs even after CA-IPCC, in IB.
Let me name some companies that you could straight forward find career option.
Tres Vista Mumbai
E-Value serve
KPMG Valuations
ADP pane
Transparent value
CRISIL
To name a few but there are plenty (in thousands) of opportunities here.
So now lets come to what you need to do to get in. This might sound like repetition but yes you need
Financial Modelling Skill: You see, Financial modelling is a skill which will come up again and again, in various fields in finance purely because of its need
CFA level 1:(chartered financial analyst) Although optional but you may want to get your hands on a respectable more than 50 years old qualification with recognition across 180 countries. CFA is one of the largest Investment specialisation qualification in the world, Period. If you even just complete level 1, you can open doors to a whole new level of job opportunities.
Duration: 6 Months for Level 1 and 18 months for all the levels
Cost: 2.5-3 Lacs INR
You can read in detail about the CFA qualification in this article: What is CFA. I have also written a specific article on CFA for CA students here: CFA After CA
Risk Management & Courses after CA
Tons of opportunities here, trust me. Post 2008 risk management has been growing and the ambit of risk management is continuously increasing over the years. As CA students either completed or pursuing you can create some niche for yourself here.
Some specific roles you can target are:
Credit Risk Modelling Jobs

Compliance Risk Manager
Operational Risk Manager
Out of the three roles, the credit risk modelling job would be the highest paid in terms of compensation and also requires some good base in terms of supporting qualifications.
FRM: (financial risk manager)At least complete the part 1 of the FRM qualification, which is given by GAARP. This will give you the necessary background for risk management. FRM has two exams Part 1 and Part 2. Usually candidates tend to complete both the exams in 1.5 Years.
Again a role which is easy to get for CA students, there are multiple roles in banks and credit rating agencies.
Some additional certifications
Financial Modeling certifications
---
Best certification courses for ca students along with CA
These combinations I would like to recommend keeping in mind, a back up system in place. In case ofcourse you lose interest in completing the ICAI journey itself. Lets list down some options based on the area of work
Degrees
ACCA: If you want to create a backup for making a career in accounting itself, in case you lose the battle of institute of chartered accountants India ,would be ACCA. Now the reason why I recommend ACCA specifically is, because I assume that "Difficulty of CA" was the issue. I am in no way saying that ACCA can make the same level of career path as ICAI( as a matter of fact it cannot) but In case of CA drop out, you would have a decent chance of still remaining in the accounting domain.
Exemptions for CA Intermediate : 5 papers
Exemptions of CA Final students: 9 papers
There are many job roles that mandate a masters qualification, so I would highly recommend to pursue either a M.com parallelly. The reason why I say so is because MBA is a full time, and make sense only when you do it from a tier 1 college.
For Enhancing Your Accounting Career:
Accounting internal audit or External -Certification- IFRS (Dip): Again this is not a back up per se but in case you wish to work in auditing hard core and plus want to work in big 4 kind of MNC companies then it makes sense to do DIP IFRS. Since IFRS is the standard to be followed in India as well because Ind As is also finally derived from IFRS.
Exam Fee: INR 10000 Approximately
Courses Like CA which can serve as alternative course
This is where I would be suggesting a decision making. Not necessarily a back up.
Certified Public Accountant (U.S)– CPA
CPA is a very respectable and probably one of the most sought accounting course qualification worldwide in the field of accounting. In case you have already completed your graduation and probably already late for CA, then CPA is the route to pursue. Be reminded that the qualification is not easy to clear but is worth the effort.
Eligibility:
120 credit scores, according to U.S calculations one year of education is equivalent to 30 credits, which means after b.com, you have just 90 credits. However if your college is NAAC Accredited "A", then you get addition 30 credits
If in case you are not from NAAC "A" colleges, then you might have to explore one year university programs or considering doing M.COM parallelly, and apply for CPA exam after 1 year of M.COM
Exams:
There are total of 4 papers you will have to clear

Auditing and attestation (AUD)
Businesses environment and concepts (BEC)
Financial Accounting and Reporting (FAR)
Regulation (REG)
Time Limit: Unlike other exams, you have to clear all the papers within 18 months
Cost: Approximately INR 2 Lacs without training Fees
These certifications I am recommending as a must for anyone willing to stay and thrive in accounting and finance and especially qualified chartered accountants 
Power PI & Tableau certifications: These are data visualisation certifications which are provided by Microsoft and tableau respectively. The exams are conducted online and can be self-taught.
Certified Information Systems Auditor: As auditing now involves also, cyber security audits. You can pursue CISA from ISACA.
Concluding Thoughts
I hope the article served its purpose, I have tried to summarise the most important problems that CA candidates face and supporting qualifications and certifications. In case you wish to ask more questions, please feel free to reach out.