NSE Financial Modeling Course
With Placement
Hands on training for core finance placements
12 Specialisations in advance models*
Average Package 4.5 LPA*
Life Time Access to Content
Weekend Batches
Learn with investment bankers with 10 years exp.
Pre-recorded Videos

3 Specializations

Forum Support 

1 Year Content Access

Course Certification

Fees – ₹4,999  (+ GST)
Personal Mentorship*

12 Specializations*

Lifelong Content Access*

Course Certification

Community Access

Fees – ₹9,999  (+ GST)
Live Online Classes *

Personal Mentorship*

3 Specializations

Lifetime Content Access

Course Certification

Fees – ₹14,999  (+ GST)
Live Online Classes *

Placement Assistance

12 Specializations

Lifetime Content Access

Course Certification

Fees – ₹24,999  (+ GST)
Financial Modelling Course Syllabus
Below is the core program outline of the financial modleing  course with placements offered. Now, this forms the base foundation before the candidate, is eligible for specializations in advanced financial modeling modules. 
Also, You can download the brochure for more details.
Which Job Interviews Test This skill?
Course Completion Certificate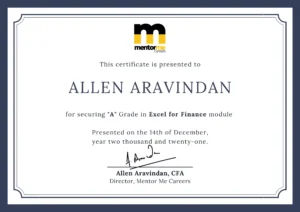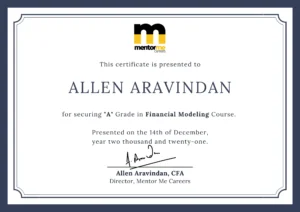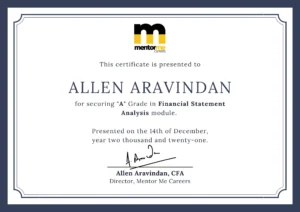 There are 4 Modules of the. Each module will have a quiz at the end of the reading. The overall grade is calculated based on each module's performance.
Core Finance Placement Recruiters
Our placement process is robust yet personalized for each candidate. Additionally, each candidate gets access to a mentor, which promises unbiased decision-making help throughout the success journey. Every student has to display a certain level of financial modeling skills to be eligible for investment banking placements.
"Mentor Me Careers has the most comprehensive financial modeling Course backed up with 12 elective projects to work on. I would like to recommend any student or college to adopt Mentor Me Career's course
Good material, staff is also good always helps in need
Wonderful experience with Mentor Me Careers.
Very helpful faculty always available to clear all doubts 24*7.Very knowledgeable and keep guiding in every step during class sessions.Thanks for adding value to my career.
Veeresh Shetti M
2022-11-25
Good place to learn about core finance concepts happy to join Mentorme Careers
Vinith Damerla
2022-11-23
Mentor me Careers is Great place to learn financial modelling because everything is taught from basic level , quizzes and assignments will definitely increase your knowledge and confidence!!!
I am happy with the course I got from mentor me, I wanted a course that gonna teach financial modelling from basics. Mentor me faculty teaches the whole course from scratch so that a student from any background can cope up easily, you can also finish the course at your own pace if you're a working professional!
I felt that staffs are quick and easy in doubt solving.
Frequently Asked Questions