So, you want to become the Indian Gordon Geko, trading where money never sleeps? And you are looking for the stock market courses in Mumbai, which can do the job for you? In this article, I am going to discuss and cover the top 4 best share market classes & courses in Mumbai.
So, below is the list of four courses, but hold on before you decide to take any one of them because each of these share market courses in Mumbai is different. So, I advise you to read the whole article, and then decide.
| | | | | | |
| --- | --- | --- | --- | --- | --- |
| Ser | Institute Name | Course | Type | Google Ratings | Fees |
| 1 | Tips 2 Trade Mumbai | Advance Technical analysis | Technical | 4.8 | 34000 |
| 2 | Share wolves Mumbai | Trade alchemist | Algo | 4.9 | On Request |
| 3 | Trading4living Mumbai | Swing Trade | Event Based | 4.9 | 50000 |
| 4 | Mentor Me Careers | Financial Modeling | Fundamentals | 4.9 | 14999 |
share market courses in mumbai
Stock Market Courses in Mumbai Overview
So, first, lets us understand that trading is not as simple, as doing any random course. Also, even if you are the best student in the share market class, still you might never actually end up making any money. Also, not every strategy is aligned with your personality.
My Own Story on Trading
Now, you can either skip this part if my story seems, boring but the only reason why I am sharing this. So that you understand, the mistakes and how much time it takes to settle down with a strategy.
Now, I was never a born trader, but I had this curiosity of markets since the time I was in my high school. The values of companies, going up and down, fascinated me. However, I was absolutely confused, and since no one in my entire family had the faintest idea about markets. So, I ended up ditching my engineering career pursuits, and I switched to commerce stream after completing high school.
So, as I was walking one day down the streets of Camp area, near the famous coffee house, right next to dorabjees. I saw this book, named rich dad poor dad. As far as I remember, I did not pick up that book because I knew that it was related to money. However, I picked up at the time, because we were not wealthy. Now, that I understood because when we approached the bank for a loan for my education abroad, the bank asked for collateral. Now, we didn't have that and personally I felt, that spending twenty lacs on graduation, was not worthwhile.
So, round about the same time, I read the book and to my utter surprise the book was about how money gets made. So, till date I would give my credit to Robert kayosaki, if it wasn't for that dusty pirated book on the road. I would a have never, understood money in the real sense.
Next Steps
So, once I was clear I wanted to learn more about money, somehow I was clear in my soul. That probably, eventually I will never work for someone in the longer run. However, it was important to also understand, what is the alternate. So, my quest for the truth began.
Also, I foolishly chose, Bachelors in business only to realise that it was not about making money. Then one fine day, again just like the rich dad poor dad incident, I came across the CFA qualification. Also, I chose CFA because, I didn't want to give 17 Lacs, to an ivy league MBA college in India. Neither did I have that money, but I felt rather I would invest that money.
Trading Methods
So, once I was done with CFA, I had the fundamentals in place and I understood all the technical terms. But CFA doesn't teach how to make money. It teaches you the tools. It has safely given this job to you, to figure out. Just like they did themselves, by making the CFA qualification itself.
So, one fine day one of the collegues, who at the time was also a CFA charterholder. Also, was experimenting with trading strategies. He suggested me to read around 100 books. Not to learn trading but to appreciate, that they are 100 ways of making money.
Eventually I myself settled for systematic trading and now also fundamentals. Fundamentals was more convincing when I myself starting running a business.
There are various types of trading, each with its own set of characteristics and strategies. Some examples of trading types include:
Day Trading: This type of trading involves buying and selling securities within the same trading day, with the goal of profiting from short-term price movements. Day traders often use technical analysis and chart patterns to make their decisions.
Swing Trading: This type of trading involves holding securities for a period of several days to a few weeks, with the goal of profiting from medium-term price movements. Swing traders may use a combination of technical and fundamental analysis to make their decisions.
Position Trading: This type of trading involves holding securities for a longer period of time, such as several months or even years. Position traders focus on long-term trends and fundamentals to make their decisions.
Scalping: This type of trading involves making multiple trades in a very short period of time, such as seconds or minutes. Scalpers use technical indicators and chart patterns to make quick decisions and take advantage of small price movements.
Algorithmic Trading: This type of trading uses computer algorithms to make automated trading decisions based on technical and fundamental analysis, and it can be applied to different time frames.
High-Frequency Trading (HFT): This type of trading uses advanced technology and algorithms to make trades at extremely high speeds, often measured in microseconds, and it's mostly used by institutional traders and hedge funds.
Options Trading: This type of trading involves buying and selling options contracts, which give the holder the right but not the obligation to buy or sell an underlying asset at a specific price within a specified time. Option traders use different strategies such as covered call, protective put, and bull or bear spread.
It's worth noting that different types of trading may be more or less suited to different traders depending on their investment goals, risk tolerance, and trading experience. It's important to carefully consider these factors and to fully understand the risks and potential rewards of any type of trading before making any investment decisions
Top List of Stock Market Classes in Mumbai
Now, lets begin discussing the various courses that you can explore for share market classes in Mumbai.
Tips2Trade- Stock Market Courses in Mumbai
So, tips 2 trade has a very specific course on advance technical analysis, which is what I recommend if you are interested in technical analysis specifically.
So, below is the total coverage of the advance technical analysis stock market course in Mumbai.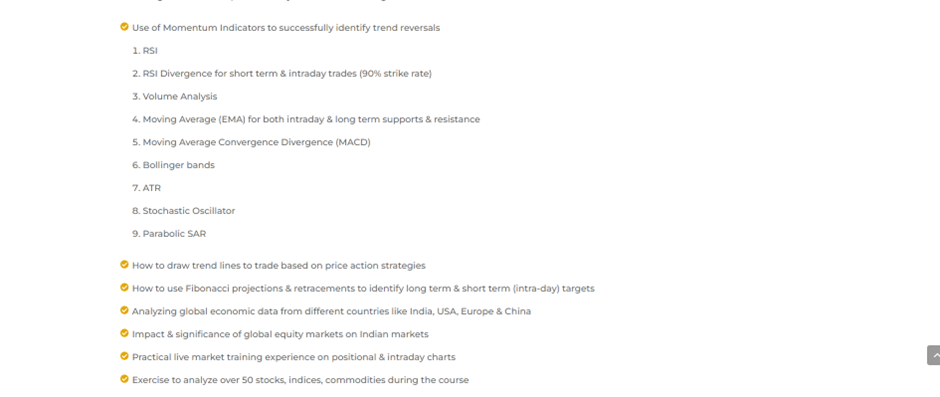 Course Duration
The stock market course in Mumbai provided by tips2trade is of total 10 sessions of 1.5 hrs each.
Fees:
The share market course in Mumbai provided by tips2trade is priced at INR 34000/-
So, share wolves is an interest share market course provider, and my top pick would be the trading alchemist. Which is more geared towards systematic style of trading.
So, below I have shown the snapshot of the coverage of the course.
Basics Of Algorithmic Trading
Know And Understand The Terminology
Basics Of Ms Excel, Available Functions And Many Examples To Give You A Good Introduction To The Basics
Basics Of Omega Software
Installation, Basic Functions, Interactive Exercises, And Python Notebook
Options
Terminology, Options Pricing Basic, Greeks And Simple Option Trading Strategies
Basic Statistics Including Probability Distributions
Standard Normal Distribution; Related Parameters Like Z-Score, Confidence Interval And Their Use, And Hypothesis Testing, Covariance, Correlation And Regression And Their Physical Significance
Multicharts
Tutorial To Get An Hands-On On Multicharts
Introduction To Machine Learning
Basics Of Machine Learning For Trading And Implement Different Machine Learning Algorithms To Trade In Financial Markets
Data Types, Variables, Inbuilt Functions, Logical Operators, And Control Structures
Writing And Backtesting Trading Strategies
Introduction To Brokers Platform
Code And Back-Test Different Strategies On Various Platforms
Using Ibridgepy Api To Automate Your Trading Strategies On Brokers Platform
Two Preparatory Sessions Will Be Conducted To Answer Queries And Resolve Doubts
Course Duration
The course duration and fees of the share market course, is not given by you can get in touch with them in the brochure mentioned here.
Trading4living Mumbai- Stock Market Course in Mumbai
Now, I like the name of the company, because I had read one book name on this. Also, hoped that the company too, had the same vision as book.
Swing Trade- Share Market Course in Mumbai
So, below is the coverage of the course.
BEYOND CANDLESTICK
Gap.
Pro-Gap.
Doji, Spinning Top, Hammer, Engulfing usage for SWING trading.
Valid breakout.
TRAPS.
Role reversal.
RSC.
VOLUME – THE KEY FACTOR.
As early indicator for breakout and for Trend reversal.
To identify TOP-BOTTOM.
IDENTIFYING SPEED IN THE TREND
(CRITICAL FOR SWIMG TRADING)
RSI Settings for SWING. Range.
RSI SWING STRATEGY – Confluence of Timeframes.
RSI move.
RSI reverse strategy – With SL, Target & period.
Divergence from SWING perspective.
RSI MD strategy.
VOLATILITY.
Short-term SWING strategy.
BBSW strategy.
Confluence of Timeframes strategy.
Trend reversal identification.
TRENDLINES, TREND CHANNELS, MULTIPLE TREND CHANNELS.
Rules, Significance,
Violation & Filtration rules.
Targets.
Role reversal.
Trende channel & multiple trend channels.
FIBBONACCI – IN ADVANCE WAY.
Projection and Retracement. Important levels for SWING trading.
6 STRATEGIES for swing and positional trading.
TIME ANALYSIS / MARKET CYCLE.
Calculation of trending months for particular sector.
Important time zones.
Course Duration:
60 Hours (40 sessions of 1.5 hours each) (Timings can be flexible as per the trainee and trainer's work schedule)
Program Fees:
 Rs. 50,000/- per student
Mentor Me Careers
Fundamental Analysis-Financial Modeling Course
So, if you are more interested in the fundamental way of trading and investments, then you can opt for mentor me careers financial modeling course.
Course Structure:
Now, the course is divided into 5 Modules or core modules while the 12 specialization modules are separate.
Check the full syllabus of the course here.
Along with these basic five modules, each student on completion of the course gets to also do the 12 advanced models specialization.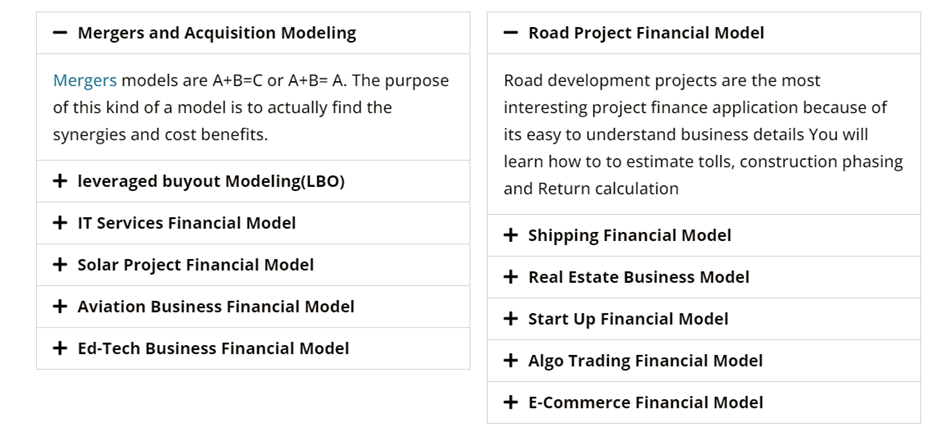 Course Fees:
Course Duration:
The financial modeling course in Mumbai is for three months or 12 weeks in total. Also the total duration of the course in terms of Hrs. is around 200.
Conclusion:
So, now that you know the various stock market courses in Mumbai, I would suggest doing your due diligence and finding your fit. However, if you can't decide then start somewhere and begin your exploration from there.