If you think, that data science or a python programming or may be learning power BI is the way to become a business analyst? So, that's absolutely wrong, the job of a business analyst is much more than just reporting. In this article we, will discuss the top business analyst course in Mumbai which I think can help you in achieving your goals.
So let's get rolling.
Who is a business analyst?
The short answer to that question is a person who bridges the gap between the IT technical team and the clients. However, I am sure that's an oversimplification of the actual role.
So now the long answer is, that a business analyst is a techno-managerial person.
For example; if we are talking about, a business analyst in CITI Bank.
Now, that business analyst is expected, to scan and study a specific risk management process of CITI.
Secondly, he is expected to create a new updated, more efficient process on paper.
Thirdly, he is expected to now document this, in let's say a document which is often called the business requirement document or BRD.
Finally, his job is to make sure that the result that the bank gets from the development team, is as close to the BRD itself.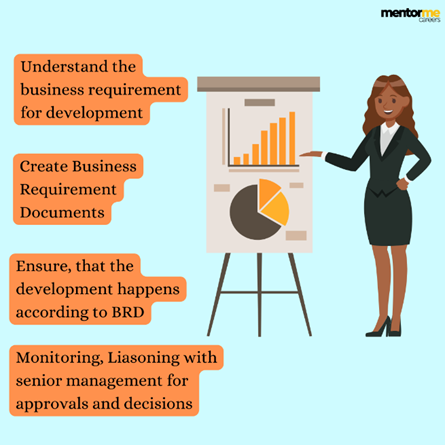 Defining Business analysis?
In short, once we know who is a business analysis the next question would be what is business analysis.
This is where I will break this down into just simple abbreviations
Change
Need
Solution
Value
Stakeholder
Context
So, let me know elaborate this further. So, if I am working in a company, that is facing issues with their internal reporting process and wants to change it. Then there is a need. Followed up by a solution, which can be documented and finally I could define how much value it will create after implementation. Also at the same time, its critical for all the stakeholders in the business to embrace and support the change.
Various Roles Who perform Business Analysis
So, just the person with the designation of "Business analyst", is not the only lone wolf carrying the burden of the whole company. Infect, the following people also perform business analysis functions.
Also, that makes sense because let's say the cyber security analyst in the cyber security division, could also act as a business analyst in instilling change.
Approaches to Business Analysis
So, now the next question what are the various frameworks for doing business analysis.
Predictive approach: This approach is particularly, very common. In this approach the person gathers all the data first, gather gaps and information from other stakeholders.
Adaptive approach:In this approach, the plan is to improve on small gains. Instead of doing a mega project, the idea is to focus on small areas and deliver value.
Hybrid approach: It's a mix of a predictive and adaptive approach
Top Business Analyst Courses in Mumbai
So, now let's begin discussing the various top ranking courses specifically for business analysis.
Techcanvas – Business Analyst Course in Mumbai
So, if you are planning to get into a business analyst role, more towards an IT Domain then tech canvas, does impart certifications by IIBA.
Now, before I tell you the exact course, please understand that IIBA has three levels of certification.
All three certifications are incremental from beginner-level training to advance.
Entry Level Certification in Business Analysis(ECBA)– Business analyst Course in Mumbai
So, as the name suggest this is the most basic certification level, and the coverage of this certification is;
Business Analysis Knowledge

Business analysis and the BA professional
Business analysis key concepts
Underlying competencies
Techniques

Business Analysis Planning and Monitoring
Elicitation and Collaboration
Requirements Life Cycle Management
Requirements Analysis and Design Definition
Certification of Capability in Business Analysis(CCBA)
Next up, is the slight advance level of the IIBA certification, CCBA. The eligibility of this level is;
To earn the CCBA designation, candidates must:
Complete a minimum of 3,750 hours of Business Analysis work experience in the last 7 years
Within these 3750 minimum hours required, a minimum of 900 hours must be completed in each of 2 of the 6 BABOK® Guide Knowledge Areas OR, a minimum of 500 hours must be completed in each of 4 of the 6 BABOK® Guide Knowledge Areas
Complete a minimum of 21 hours of Professional Development within the last 4 years
Provide references
Agree to the Code of Conduct
Agree to Terms and Conditions
Pass the exam
Now, as an entry-level candidate, I would recommend that you think of the above two certifications at the start.
Training Fees:
So, tech canvas has the following fee structure for the preparation of the certification.
PMI- Business Analyst Certification in Mumbai
So, this certification is more suited for people who work in project management in IT companies and more closely working with data gathering from clients.
Eligibility for PMI certification
Bachelor's degree or the global equivalent
36 months of business analysis experience
35 contact hours of education in business analysis
Exam Fee:
Member: ₹21,933.00
Non-member: ₹30,042.00
Training Providers in Mumbai- PMI Business analyst course
Sprintzeal Mumbai