Are you confused about which road to take after completing your M.com? Also, probably you are looking out for after m com which course is best? or may be you are thinking, after m com which course is best for job?
So, let's get started, and let me give you some help, which can leap out of this dilemma.
Career paths after M.com
After M.com Which course is best?- Overview
Now, before I start talking about, courses & certifications directly, its best we get the base foundation right. So, as a master in commerce, after of course let's say completing b.com, you are definitely more geared academically towards accounting.
Also, if you see the image below, primarily the jobs after m.com are more towards accounting.
However, the only problem is that most of these accounting jobs are back-end processes like accounts payable, billing, and receivables. Which, by the way, may or may not excite anyone too much from the compensation angle.
Question to ask your self after M.com?
So, given that there are limited places we can flex our muscles to get newer opportunities, there is a need to now introspect. However, what should you introspect?
Firstly, let's start by answering some questions.
Firstly, do you like accounting as a career?
Secondly, do you plan to switch your career entirely into a different domain?
So, these two answers will decide how we propagate ourselves into the future.
Switch is Possible
Yes, that's right! There is no such thing as too late. You can switch to any field, and at any time. However, the only constraint is what are you willing to sacrifice and how much to do that.
I have seen, people become cyber security experts after b.com. At the same time, I have also seen engineers, becoming investment bankers. Also, it did not happen just because they did a course but because they had absolute passion and interest for that field.
Careers you can switch to after M.com?
Now, let me begin with some realistic career switches that you can do after M.com. Especially, I will discuss this from the angle of the openness of the industry to accept, such tangential backgrounds.
Data Science: Yes, data science can be open to you, but you need to become a total nerd for it and prove a lot using projects and internships. Sometimes, taking a salary cut also to get a start in this industry.
Investment Banking: So, this field is actually the most open-minded with people of different backgrounds. Also, this is the field with the least amount of spending that have to do.
Cyber Security: Since there is so less people here in this industry. As long as you have the requisite skills, this industry will accept you.
Digital Marketing: Always open to all, because of the variety of skill sets required for this job.
Now, don't worry ill come back to how to get into these careers, in detail again in the coming sections. This was just a preview, to keep your hopes high.
Higher Up in Accounting?
Now, I already showed you that most of the jobs in accounting for M.com specifically are very back end oriented. So, how about going up the hierarchy?
Yes, that's also possible but I am going to discuss couple of skills and qualifications that actually matter. And no!, I am not going to tell you about ACCA, because ACCA will bring you back to the same M.com jobs again.
Data Science- After M.com which course to do?
Alright, so let's start at a very basic level on the snapshot of this industry. Don't go all AI & machine learning yet! It's not that complicated, and we need to understand that at the end of the day, it's a service-based industry. Also, don't jump on some random 2 lac course on data science, which promises the world.
Data science, after m.com- which course to do, is dependent on which roles we target.
Data Science Jobs after M.com
So, I just randomly picked up this image from google, on functions of data science. So, warehousing, DBA, and ops are far-fetched ideas, remove them.
However, data engineering, reporting, analytics, and data science are pretty much within our reach to get into even after m.com.
Step-by-Step Plan:
Now, I am giving you approximated steps that you can follow to get into data science after m.com.
Firstly, start with a small Udemy course on python for machine learning. Be regular in completing this and do not leave your job at this stage.
Secondly, after around 2 months or so completing the python course, being by working on some projects. These projects are available, free of charge on places like GITHUB. These are very important, and if you can't perform in the GIT hub projects, most likely you are not ready with your skills for the industry.
Thirdly, start looking out for entry-level jobs in data science. Don't expect much, the idea is just to get inside the door.
For eg; look at this internship below from Noida, it's a superb opportunity for getting the experience required to later make it big in data science
Once, you have such internships or experience worth 1-year at least, the industry doors open up like anything. Let me give you an example.
So, if you fall under any of the below experience categories, the number of jobs dramatically increases.
Investment Banking
After M.com, which course is best for investment banking?
So, if you want to read in a more detail on investment banking, then we have tonne's of existing resources you can check out:
Jobs in Investment Banking After M.com
So, observe the stark difference between accounting & jobs in investment banking in India.
Also, the most interesting and I can safely say is that this part of finance is not about qualifications. Hence, after M.com, which is course is best for investment banking, is not in qualifications but skill courses.
Moreover, a lot has to do with your skills and passion about the industry. I always tell candidates, that investment banking cannot be entered by doing a qualification. For instance, any of the following candidates with the qualification can enter investment banking;
B.COM
M.COM
MBA
CFA
CA
ICWAI
B tech
B Pharm
Now, you might think. Why? Well, it's because investment banking is about business and businesses require a different perspective. So, a pharma graduate can understand pharma, and biotech companies better than a CA.
Similarly, a CA or M.com can better understand banks and financial institutions.
After M.com which course is best for Investment Banking?
In my opinion, not much has to be done except a simple skill of financial modeling. You can read in detail about, what is financial modeling.
Now, in any of the interviews that you get for investment banking jobs, this skill is the only and the most important skill tested in the interviews. You can check the kind of interview questions that come, in this article.
You don't want spend lacs in financial modeling course, hence check out this course which is the highest rated financial modeling institute in India, with an excellent placement record.
Salaries in Investment Banking after M.com
So, just like data science this field needs depth of knowledge. Superficial knowledge and expereince doesn't count. Neither does brand count. Hence, it doesn't matter, if you start with a boutique investment banking company.
So this would be my classification of approximated salaries;
For fresher M.com- INR 4.5 TO 6 LPA
2-3 Years' experience in investment Banking- INR 8- 10 LPA
Now, there is no point talking about salaries beyond that level, because of course its high.
Read more on financial modeling salary.
Cyber Security Careers After M.com
As, I said in the beginning cyber security is also one of the fields, which has less people and more work. However, most of the time people will mistake that they need to be all network engineers. Hence, cybersecurity has many such departments, which have nothing to do with coding or development but a lot on protocols and preventive measures.
So, check out the above image, the places where coding is important are only cyber security engineer & architect. Apart from those roles, all the other roles are open to even people with less interest or experience in coding.
Jobs for M.COM In Cyber Security
So, now I shall prove that there are so many jobs in cyber security, which don't need engineering background.
GRC -Cyber Security Analyst
So, GRC means governance, Risk & Compliance, and is basically a framework of risk management for a company.
Job description
Methodical and proactive thinker with strong organizational and follow-up skills
Proven time and task management skills with the ability to multitask effectively and promptly
Strong analytical ability
Ability to manage projects with minimal guidance
Understands team dynamics and promotes the development of team relationships
Demonstrated ability to quickly build trust and relationships, manage matrixed teams, bridge communication gaps, resolve conflicts, and influence stakeholders at all levels (including executives)
Ability to independently manage complex tasks and projects, while demonstrating urgency, prioritization, and ownership to drive issues to completion
Polished diplomacy, active listening, persuasiveness, and presentation skills to communicate new products or changes and gain buy-in, consensus, and cooperation in the face of conflicting viewpoints, resistance to change, constraints, etc.
Activities Done by GRC Analyst
Manage and drive the end-to-end Issue Management process ensuring alignment with Enterprise Issue Management procedures and standards
Provide consistent issue status communication to GSO Management
Leverage communication and influencing skills to guide issue and corrective action plans throughout the issue management process.
Drive a culture of continuous improvement and efficiency within the GSO, G&R as well as with our involvement with our business partners.
Display continued growth in leadership and coaching to be a quality contributor and point of contact for all areas of the business in identifying and escalating issues and making sound decisions based on facts and
Provides counsel to the GSO Leadership on risk management issues
Works with the business to analyze and interpret Risk Event and/or Issue results to understand implications and determine appropriate corrective actions
Understands and utilizes all Risk Management tools and systems available to support the issue management process
Communicates and reports out results using presentations showing the data together in a meaningful format
Work closely with GSO leaders on issues
Ensure risk issues and corresponding action items are effectively remediated and evidenced.
Provide expert support and advice to GSO Management on risk identification and issue management
Skills Required
Strong business acumen in financial services or related industry, and a proven ability to balance strategic thinking with practical implementation skills.
Excellent project management skills and the ability to motivate teams and drive performance
High energy and proven track record of accomplishments and results
Strong interpersonal skills, with evidence of working in collaboration across large, complex organizations, including effective influencing skills, a proactive and no surprises approach in communicating issues/requests
Broad knowledge of applicable laws, rules, regulations, supervisory guidance, and expectations for large financial institutions (LFIs)
Hence, nowhere does it require you to have a specific technical qualification. But that brings us to the next part, after m.com which course is best for cyber security then?
After M.com which Course is Best for Cyber security?
So, again don't jump and spend lacs on Post graduate courses in cyber security. Sooner or later you will realise, that its not needed. However, what is actually needed is based on small specific skills and certifications in this field.
Now, as opposed to investment banking or data science, which doesn't care much on certifications. Cyber security, is a sub set of IT, hence this field is a lot on certifications because of regulatory requirements.
As a beginner after M.com, the course which is best suited for kick-starting the journey are;
Comptia- CYSA+. This is the best course after M.com, its light and covers most of the fundamentals required in the entry level jobs.
Also, you can see that most of the jobs require this certification.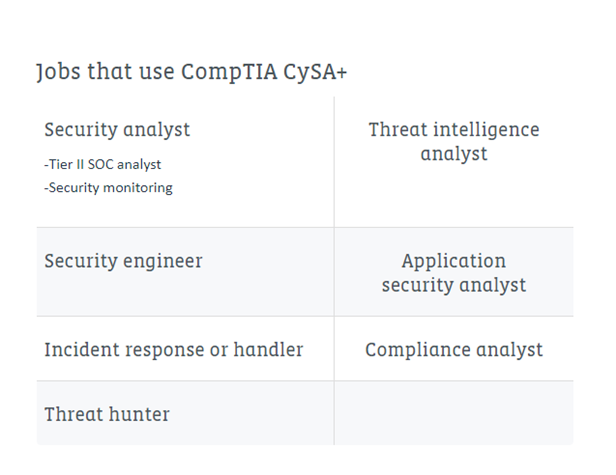 Digital Marketing After M.com
An ever green field of marketing with its digital growth, has definitely opened doors for people with diverse backgrounds. For example; you can show your creativity, in copy writing, you can show your maths in paid marketing, you can show relations in social media marketing and more.
So, an absolute bang for the money if you want to start a career in digital marketing.
However, again understand and explore if marketing is for you and then what part of the marketing eco-system do you want to get into? More so that's important because, that will decide after m.com which is the best course to do?
Digital Marketing Jobs
So, I think the image says it all. Many many jobs available, and more so you can operate from home too. The salary ranges are also decent, right from the lowest bracket of 3 lacs all the way to 10-15 Lacs per annum.
After M.com Which course is Best for Digital Marketing?
After m.com my suggestion is to get the fundamentals right. Firstly, the challenge you will face, earlier on is grabbing the fundamentals of marketing, and trust me its not a cake walk. So, first and fore most in the list of after m.com which course is best?
Marketing Management course- a simple book or Udemy course will do. However without knowing things, like the 4 P's and 3 C's of marketing, you won't understand digital.
SEO Course: I want anyone to explore SEO courses first and then move to paid, because paid is an extension of SEO. Just that its paid
Social Media- Channel understand is important. For example; Reels and hashtags drive followers in insta, but in YouTube its about watch time and engagement.
Paid Marketing: Here you want to focus either on google or Facebook but not both of them together. Google paid marketing is more complicated than Facebook.
Fundamental Tips on careers after m.com
So, whichever field you choose, remember my following tips to avoid making wrong choices and wasting money. After all, education is business and education is not becoming cheaper but we can definitely become smarter.
Firstly, Don't check the course and then careers, check careers and its specific requirements and then see if the course full fills the requirements
Secondly, Less is more, more is less. This means, having too many certifications and qualifications doesn't ensure growth or success. However, having less but focussed courses will definitely ensure success
Thirdly, focus on the start not the peak. If you are genuinely interested in a field, then the objective is to get the right start, not necessarily the big fat salary. The peak of your salaries are earned in the later part of your career.
Finally, have patience! Rome wasn't built in one day and You definitely are not Rome.