So, you just landed on the page and the article, which will explain the private equity salary in India(PE India), in the most comprehensive possible way. While, you may find sever crumbs of information on this topic, no article really talks about the pe salary in india, considering roles, expereince, education and skills.
So let me get started.
Private Equity Overview
Now, private equity in India, over the last decade had the biggest tech-tonic shift. And yes,I didn't really misspell the word, we literally had the biggest surge of tech companies born in India. Which, has given rise to huge number of investment clubs, also known as private equity.
Source: Bain and company PE India report
While back in the year 2013, the number of deals per year in the private equity space used to be around 500 to 600 yearly. Which got juiced up with steroids to reach deals up to 2000 in 2021. Which is evident, because we had many Billion dollar start ups, like byju,Toppers,Zomato, swiggy etc which became the unicorns.
Indian PE( Private Equity Salary in India)
So, now you know that why the space has grown, its time to dive into discussing what matters to you. Which is the private equity salary in India. So, we need to remember first that private equity is an industry, not a role. Hence, you could have multiple kinds of people from accounting to developers and data scientists working in this field. So,we will discuss the Indian PE salary, in the following categories,
Indian PE(Private equity salary) by Education background
Second, by Experience effect on PE Salaries
Third, on understanding the effect of skills on salaries in private equity
Fourth, location effects on salary.
Finally, the effect of the role in the job.
Effect of Education on Private Equity Salary in India
So, this should in most cases be obvious if you look at it in a very shallow perspective. However, when we actually plot the salaries of real people with experience, we find that it has a very subtle difference. Now, I don't know if you agree or disagree but there is a very low improvement achieved by getting into ivy league, atleast in the private equity space in terms of salary.
While, there can be many explanations which can be hypothesised. However, in my opinion the reason is simple, creativity. So, in the private equity space, the job is not managerial but requires skills to understand the complexities of the business itself. So, there is a good chance that an engineer, who understands the tech business might serve far better resource than an MBA.
The effect of location on Salary
Although, even if the conclusion of this section comes that there is an effect of location, you should also consider the effect of cost. For example, living in a city like Bangalore is way expensive than Pune but if the salary difference is meagre then the conclusion would be that there is no significant effect on private equity salary.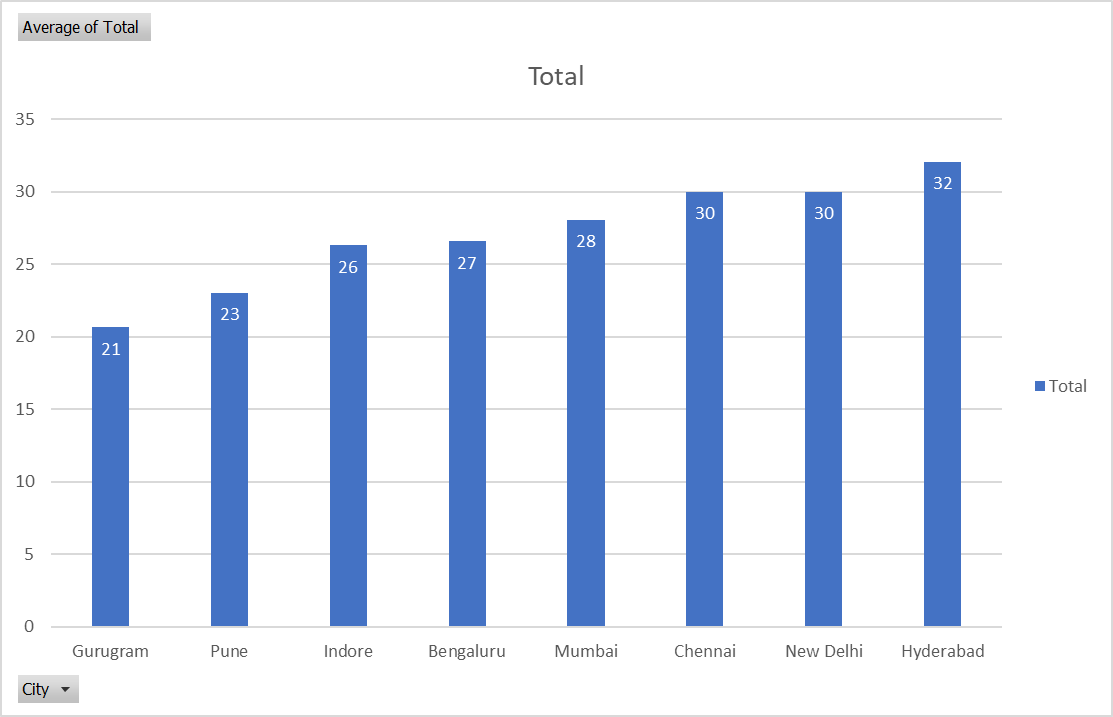 So gurgaon, seems to be the city with lowest average salary in private equity. While suprisingly, hyderbad has the highest salary. However, if someone has to choose between bengaluru, Mumbai, New delhi and chennai. Then, the differences between the salary is not significantly different.
Skills Effect on Private Equity Salary
Now, finally let me look at if there is any significant demand for a specific skill in private equity. Now, love it or hate it but sales skills, is significantly rewared in private equity. Also, recently machine learning, python seems to have made their way as being demanded. While, the no brainder financial modeling skills still demands heavily in private equity space.
So, the reason why sales is so important is because there is no private equity if your investor won't open up his pockets to invest the capital. This is even more difficult in private equity space, because the investor is an informed investor so building connetions is not easy.