As an aspirant for one of the toughest exams in India, it is crucial to start your journey with the right mentors! Being able to identify which coaching institute is suitable for you is a game changer. In this article we will not only tell you about the different institutes and the facilities they provide, but also some features that set these institutes apart and why they deserve to be in this list. So, without delay, here is a quick table with the list of ca coaching in Gurgaon.
List of CA coaching in Gurgaon
| | | | | | |
| --- | --- | --- | --- | --- | --- |
| Name | Rating | Foundation Fees | Intermediate Fees | Final Fees | Location |
| Bright Commerce Classes (BCC) | 4.7 | 46,000 | 90,000 | N/A | DLF colony, Sector -14 |
| Institute for Leading Professionals ( ILP) | 4.7 | 48,000 | 42,000 | 48,000 | DLF colony, sector 14 |
| Straight Shot CA  | 4.6 | 45,000 | 75,000 | 85,000 | Opposite to City Centre Metro |
| Miles Education | 4.5 | 46,500 | 41,000 | 49,500 | Heritage city, Sector 25 |
ca coaching in gurgaon
Bright Commerce Classes (BCC) in Gururam: CA Coaching in Gurgaon
Be it CA, CS or CMS, BCC coaching is providing it all. They are located at DLF colony, Sector 14.
Course duration
As per the guidelines of ICAI, they have also categoried their course in three parts . 
CA Foundation – A 3 month course with medium of study as English and Hindi. Providing 6 mocks in this course, they charge a hefty 46,000 rupees. 
But is it worth it ? Well, yes.
Most of the CA Foundation courses charge a similar amount. Given, the results that BCC classes have given in the last decade, and the faculty they hire, it seems fair. 
CA intermediate and Final: This is a 8 months course with a whopping 90,000 rupees as fees. But this makes up for the intermediate as well as the final. Again something,of a similar range with all other institutes. 
  Ratings and Reviews
With a Google rating of 4.7/5, BCC coaching is one of the best players in Gurgaon location. 
The reviews have also seen a great response from students. It's all paises for BCC.
Course Features:
Course medium both Hindi and English with separate batches
Dedicated team of professionals
Regular seminars to keep students motivated
Topic wise assessments
Institute for leading Professionals (ILP) :CA coaching in Gurgaon
The institute is famous for its extensive doubt-solving sessions and dedicated teachers, with more than 25 years of experience. 
  Course Features:
Complete Syllabus Coverage
Focus on Conceptual clarity
Aims to build student basis
Professionally qualified faculty
Periodic tests and assessments
Ratings and Reviews:
The ratings of ILP is similar to BCC classes with 4.7/5 . The passing results have been the most talked about thing, with many students clearing in first or second attempts. 
If you are looking for a coaching institute that lets you pay step by step, for foundation, intermediate and Final, then this might be the best choice for you in Gurugram.
Although,they do have limited seats, so you should hurry and book one for demo sessions.
Straight Shot CA :  ca coaching in gurgaon
The motto of the institute is to make sure that once you enter, you must now matter what. Their claims are staggering!
They claim to give 5 times better results every year than the nationwide average
Fees structure
 For Foundation it's 45,000rupees, which is the average that a coaching institute charges .
But, Intermediate it's a whopping 75,000 rupees, which is a lot more than industry standards.
For Final, it's even more.i.e.. 85,000 rupees.
This extensive fee Structure can be a concern for most of the students that are thinking about this coaching.
  Ratings and Reviews
Considering the fees, the reviews aren't that bad. It's a 4.6/5 , which means the institute does it's part of providing the students with great material and reliable sources. 

The reviews also say the same story. Students are all in praise of the institute and its teachers .
4.3 Stand-out points: The biggest advantage of students opting for this institute is that they charge no fee to their repeater aspirants. And considering how CA is such a competitive exam, and failure is inevitable for a lot of students at any stage of this exam, it is only fair to charge such hefty fees once so that an aspirant at least has a trust bond with the institute.
Miles Education : ca coaching in gurgaon
This coaching is most heavily advertised. Whatever you search, whichever commerce coaching you type on Google, Miles education is at the top search no matter what! But despite that, they are worth mentioning given their results in the past years.
 Ratings and Reviews
 With a rating of 4.5/5, which isn't all bad, its great faculty is what sets Miles Education apart.  With more than 35 Years of knowledge  and classroom experience, Miles Education itself has a lot of CA who curate perfect strategies for students of different backgrounds and stages. 
Their reviews are also full of praise for the faculty .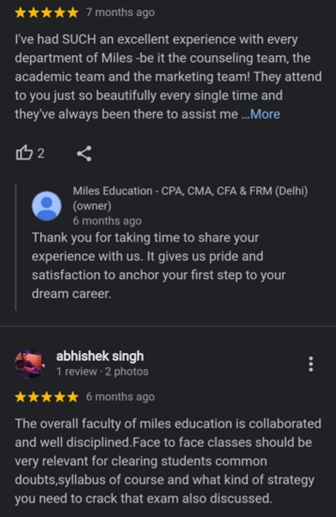 Course Features :
Counselling team at all stages
Specific Course duration
Doubt sessions
High quality material curated by CAs
Regular Mocks
Conclusion:. 
For an aspirant, it is highly important for choosing right at the right time. An exam like CA does require a partner at all its stages, and a reliable coaching becomes that partner.
Hence in my opinion, If starting new or joining after graduation go for BCC classes. They have the top ratings of 4.7 along with nominal fee structure and amazing experienced faculty. Reviews of past students have also been great. Other coachings mentioned in this list are also great at what they do, but for Straight Shot CA, there is a significant price difference, and for Miles, there is a slight difference in ratings. ILP coaching, however, also seems at par with BCC . Choose whichever suits you the best.