According to IBEF(Indian brand equity foundation), the HNI population is expected to grow by 75% 3.5 Lakh to 6.11 Lakh by 2025.
That kind of growth will generate some significant development for the financial consultant salary in India!
If you are wondering things like:
What's the financial advisor salary in India? What is the financial consultant's salary? What is the investment advisor's salary? And how much is the CFP salary in India?
Then this post is for you.
Key Takeaways
1: Entry Level salaries in wealth management ranges between 3.5 to 5 LPA

2:Senior level salaries in wealth management can reach upwards of 40 LPA

3:Senior roles in wealth management ecompass more than client acuqistion,but also products, compliance etc

4: Adding professional qualification at the entry level, can help you find niche jobs

5: Free lancing in this field is recommended after 4-5 years of industry expereince
Table of Contents
Financial Advisory Salary in India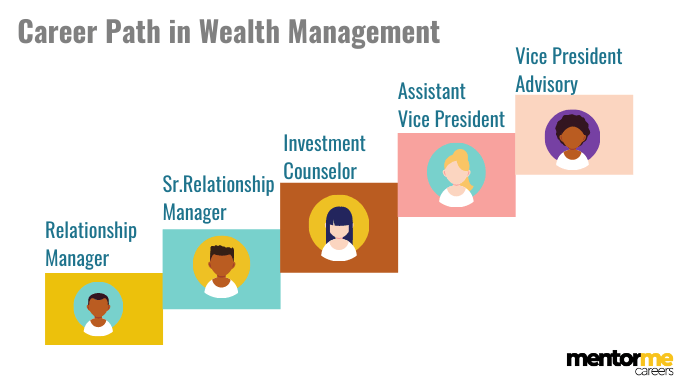 What is financial advisory
Just to put things in perspective!
And Before you understand how much we get paid for various roles, hence we need to get the hang of our value in the industry.
Therfore Simply put there are providers of fund management and clients on the other hand.
There are 1479 schemes provided by 44 AMC(Asset Management companies)

SEBI
On the clients side, he/she may not have the necessary time and resources to study each scheme.
On the fund side, they don't have the resources to advise you individually
Let me take an example here: Mr A has a salary of $70,000 Annually, who is recently married and is 32 years old.
Given that,He plans to create an emergency fund, and save for house purchase in 3 years, whilst plan for retirement with the current lifestyle.
In addition, Mr A doesn't have any experience in investment, and he is a straight arrow( risk-averse).
Nevertheless,would any mutual fund have the time to create a plan for him?
While The answer is No, the financial advisor plays a pivotal role in creating a customised solution tailored to the client-specific needs.
Financial Advisory Salary in India

#Relationship Manager
Who is a Relationship Manager?
The first and single point of contact for a retail,as well as institutional client for all the clients needs.
Relationship Manager Job Description
---
Sourcing new clients
Understanding needs of customers
Retaining clients
Problem solving for clients in an ongoing basis
Tracking clients investment performance
Liasoning between various departments for the client
Education: Any
What to expect: Quick promotions possible, Good incentives, Lots of learning.

Challenges: Sales visits, inter-personal skills, handlign clients during bad performance
#Sr.Relationship Manager
Who is a Sr.Relationship Manager?
Manages multiple relationship managers under him/her and responsible for business and handling escalation from other relationship managers
Sr. Relationship Manager Job Description
---
Responsible for overall revenue targets of the team
Hiring and monitoring team performance
Providing solutions to escalated problems from clients
Advising products and planning team on new avenues of revenue generation
Training junior relationship managers
Education: MBA(Finance),CA,CFP,M.Com
What to expect: Performance incentives on team performance, more team management and problem solving work

Challenges: Identifying good performers and retaining them, firing poor performers & creating revenue plans.
#Financial Planner & Investment Counselor
Who is a financial planner?
The technical financial planning executive, who creates the actual financial plan for a client after the client is onboarded
Financial Planner Job Description
---
Responsible for providing holistic financial planning to clients
Setting up meetings/ calls with prospective clients
Creating flexible financial plan and helping the client to follow the plan
Doing asset allocation across long-term and short-term goals
Comprehensively document interactions and the advice being provided
Help these clients understand the financial circumstances and how to reach their short term and long term financial objectives.
Education:
CFP,CFA,MBA (Tier I)
Expereince: Minimum 3 Years in BFSI
Skills:
Communication skills,presentation & Analysis
What to expect: A Lot investment policy statements, technical queries,presentations & being upto date with regulations.

Challenges:adaptive to new changes in the industry, deep research
#Assistant Vice President- Distribution
Who is a AVP- Distribution?
The head of business operations for a wealth management firm or vertifical.
AVP- Distribution Job Description
---
Serve as a lead point of contact for a small group of Advisory Firms, developing strong, long-lasting trusted advisor relationships
Execute on a long term business plan strategy with your assigned advisory firms.
Engage in regularly scheduled strategic discussions on the execution of the business goals and initiatives outlined in that plan.
Ensure timely and coordinated delivery of services by orchestrating with Business Solutions and Customer Care partners
Examine trends and develop insights at the firm level and across the Strategic Wealth Services firms
Identify opportunities to increase client satisfaction
Manage attrition risk by proactively partnering with internal stakeholders
Internally, this position interacts with middle and senior management at LPL
Education & Work Expereince:
Bachelor's degree in Finance, Business, Economics or related field; MBA preferred
Minimum of 5 years' experience in financial services preferable in sales, consulting and/or client service/relationship management
Knowledge of the client segment, organization, product, industry, and end customer
What to expect: Everything under the sun related to business problems including revenue

Challenges: Shifting through one problem to another
#Vice President- Wealth Management
Who is a AVP- Distribution?
The head of business operations for a wealth management firm or vertifical.
VP- Wealth Management Job Description
---
Working on improving and developing service, capabilities and products to high net worth and ultra-high net worth individuals and families around the world
Manage investment management and brokerage, tax and estate planning, banking and credit, capital raising, and specialty wealth advisory services.
Work in conjunction with numerous wealth management investment solutions teams to develop and deliver products for use in the lines of business.
Experience analyzing, communicating and executing against complex business initiatives withpreparation and structure
Ability to influence and partner effectively across a global organization
Demonstrated track record of adapting to a rapidly changing business environment, ability toquickly assess situations, act decisively and capitalize on change
Industry involvement – staying abreast of industry trends and issues
Highly collaborative – history of delivering results with and through organizationalpartnership
Proficiency with MS Office, particularly Excel, Word, and PowerPoint
Background in Product Development and Product Management preferred
Education & Expereince Required:
5+ years of
Exposure to Investment Products (MFs, SMAs, ETFs, Equities, Fixed Income) preferred
Proven ability to distill complex ideas into consumable and actionable materials
What to expect: Lots of interaction with senior industry professionals,constant traveling, team management
Certified Financial Planner(CFP) salary in India

Certified Financial Planner or CFP is a popular professional qualification pursued by wealth management professional across the world & is award by Financial Planning Standards Board in the U.S, whichis recognised across 60 countries.
Now the real question here, is whether CFP actually helps?
To be honest Just CFP, no! However it does give you a lot of knowledge, which can help you leap through the heirarchy faster.
Moreover it may help you in doing more technical work like financial planning or may be work in product development for wealth management firms.
The program helps you get a deeper understanding of :
FPSB® Investment Planning Specialist
FPSB® Retirement and Tax Planning Specialist
FPSB® Risk and Estate Planning Specialist
FPSB® Integrated Financial Planning Course
But now lets look at some real data, to see if there is any value in terms of growth.
I do believe that data if you have completed the entire CFP program, along with atleast 2 years of expereince!
So upwards of around +2 LPA premium, compared to a non CFP candidate. However do note, that CFP program is not an easy feat to complete and requires some good effort and focus.
Top Investment Advisor Jobs in India
There are tonnes of jobs in investment advisory, but I am going to highlight some great opportunties that this industry has to offer. Also to make you aware that investment advisory, although has a big componenet related to targets, revenue and sales but has the potential to be a big pay master
Salary : 17 -27 LPA
Salary: 13 LPA

Salary:5.5 LPA
Salary:9 LPA
Salary:9.5 LPA
Hopefully the idea is clear? Wealth Management can pay and be attractive just like any other niche field,if you have the personaity fit for this kind of job.
Freelance Financial advisor jobs
Another beautifull thing about financial advisory, is the opportunity to call your own shots!
Yes!
All it takes is 4-5 Years of industry expereince, wherin you have created some reputation and network. Remember wealth managemnet deals with money, and money means trust! You will not be so trusted, if you start your own practice as a fresher. Just like any other field or sport, career, wealth management has got its own slangs, tricks and recipies for runnign the show.
However once you have it, then wealth management can be a great stay for runnign your own private wealth management services.
There are two ways by which you can structure your business
Fee Based
Commission based
Fee based is still very new in India, and clients usually don't feel comfortable paying the advisor for the services, but happy taking a cut on their returns with the management fees that the mutual fund charges.
However in the longer run, I feel that fee based is going to the place for innovation and the standard.
Conclusion
Summing up! I feel wealth management, financial advisor, investment advisor all are great opportunties for aspiring candidates who wish to take the adventure.
Its not easy and its not for everyone but my advice is not to discount this field as a sales job, after all everything is sales. You can't sell, you can't survive.