Investment Banking Classes in Thane with 100% Placement
Certificate in Investment Banking Classes in thane, is a course by mentor me is the highest rated course to kick start your career in IB Operations careers
100% Job support
 Investment Banking Interviews
200 Hrs of Training
Based on CISI Certification(U.K)
Life Time validity
Investment Banking Classes in Thane Placement
Investment Banking Classes Thane Overview
How Placement Works?
Course coverage and Hours
Certification
Investment Banking Classes Thane Overview
You get 200 Hrs of placement focussed training in a live virtual environment with industry professionals.
100% Job guaranteed interviews.
Get to learn about investment banking from scratch, no background is required
Get prepared for the interview
*Guaranteed interviews are subject to student fulfilling the basic course requirements 
How Placement Works?
Course coverage and Hours
Certification
Investment Banking Classes in Thane
The certitificate in Investment banking operations training course is designed for candidates who are targeting a career in the thriving financial services industry in India. The investment banking course with job gurantee,  has assured interviews on completion of the course.
India holds a significant share in the the financial services outsourcing industry globally. The CIBO course aligns your skills for what the operations roles require.
If you fall under any of the below categories then this online course is for you to make your career in the investment banking industry.
MBA Finance graduate 
B.com Graduate 
CA inter
Enginner graduate willing to shift to banking career.
Basic Mathematics
Interest in finance
English Language- Spoken and written
Investment Banking Classes in Thane- learning Options
Live Online - Basic- Weekends
Live Online Classes *

Personal Mentorship*

Lifetime Content Access

Course Certification

Fees – ₹16499  (+ GST)
Live Online - Plus+ Weekends
Live Online Classes *

Placement Assistance

Lifetime Content Access

Course Certification

Fees – ₹27499 (+ GST)
Live Online - Plus+ Weekday
Guaranteed Interviews*

AML KYC Content

+30 Hrs Interview Prep

Risk Management 

Recommended for Freshers

Fees – ₹59999

  (+ GST)
Investment Banking classes in thane comes with three major certifications namely;
The Certificate in Investment Banking 
The CISI Certifcation(U.K)- Optional on payment of exam fees
NSE Investment Banking certification- Optional on pyament of ees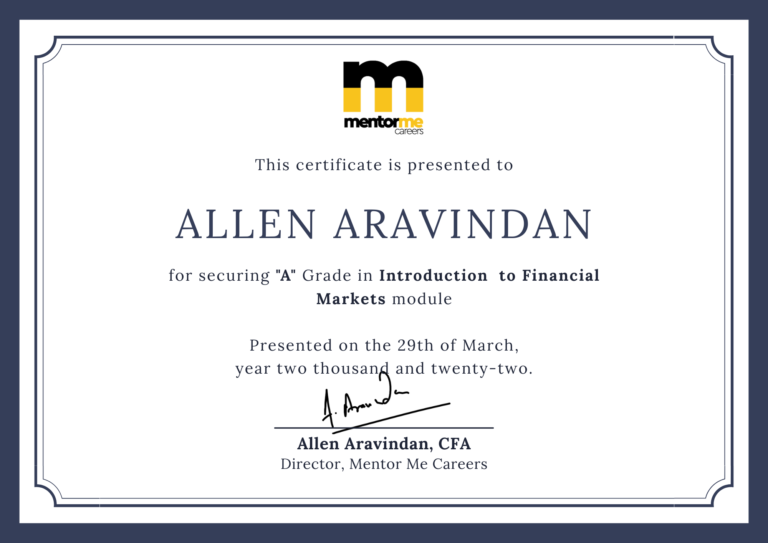 Investment Banking Classes in Thane Reviews
Great course.
My experience with mentor me careers was Excellent. Although im from non finance background, teacher taught me a finance in simple way and also in practical way. Im opted for financial modeling course and its excellent in content. Student support also very good and responsive.
Mentor Me Careers is one of the best online institution, unlike all other institute Mentor me keep student strength lower in one slot as a result they can track every student easily and student get enough time to clarify their doubts, I am delighted to be part of it .
Shubham Chavan
2023-10-30
I had a very good experience with Mentor me careers. I have opted for financial modelling course,the material they provided is very good and adaptive. Thank you
"I recently enrolled in the Financial Modelling and Investment Banking course with Mentor Me Careers. Although I was initially unfamiliar with the finance sector, the instructional approach at this institution ensured a comprehensive understanding from foundational concepts to advanced industry practices."
Great platform to boost your career, the faculty is amazingly knowledgeable helpful.
MAYURESH AHIRE
2023-10-28
Mentor me careers is a great platform for those who want to start their career in finance. The course covers all the essential topics and skills required for a career in finance.
I joined the course after going through its content. I must mention that the content is very well designed for those who want a career in core finance domain. Everything is covered from scratch and in depth. Financial modelling course by Mentor me careers is a MUST join course for finance enthusiasts.